Primer or Adhesion Promoter is a liquid used in conjunction with adhesive tape to enhance the adhesion performance. A thin uniform coating of primer is applied to the bonding surface. Adhesive tape is applied on the bonding area after the primer is dry.
Right primer must be selected and applied in accordance to the correct standard application procedure.
Since formulation and surface energy are vary for different type of substrates, each selection of primer should be verified through testing.
Used for many substrates such as ABS, concrete, EPDM rubber, glass, metal, polycarbonate (PC), polypropylene (PP), polyethylene (PET), wood and more.
Product Line:
  √  3M 94, 3M 4298, 3M K520, 3M N200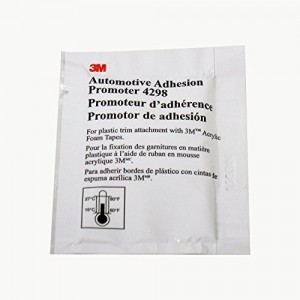 For more information about the application of Primer…
¦ 3M K520 ¦ 3M N200 ¦ 3M 94 ¦ 3M 4298 ¦ Primer ¦ Adhesion Promoter ¦