3M Bumpon is commonly used as cushioning spacer, cushioning stop, gasketing, notebook computer non-skid feet, protective non-skid feet, surface protection, etc.
Please see below for the product range: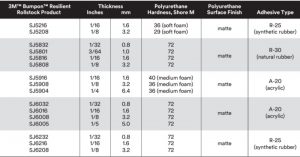 For more information, please refer to Data Sheet (PDF).
Click here for more information of Die Cut Foam & Rubber.
Contact us for more details.
¦ 3M ¦ 3M Bumpon ¦ 3M Bumpon Protective Products ¦ 3M SJ5816 ¦ 3M SJ5916 ¦ etc ¦ Malaysia