The backing of Polyester Tape is made of polyester. In general, the thickness of the tape could be very thin.
Suitable for the applications that very thin tape thickness is required.
Polyester film is a very strong backing material. The tensile strength of the tape is high although it is thin.
Superior chemical and temperature resistance.
Recommended for the applications of masking which involve strong chemical with high temperature, and any other demanding applications in electronics, metal finishing and graphic arts sectors.
Product line:
        √ 3M 850, 3M 8901, 3M 8902, 3M 8905, etc
Data Sheet – 3M 850 Polyester Tape (PDF)
Data Sheet – 3M 8901, 3M 8902, 3M 8905 Polyester Tape (PDF)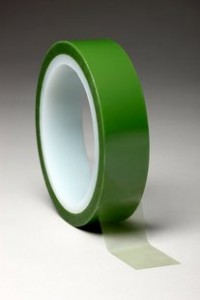 ¦ 3M ¦ Polyester Tape ¦ Malaysia, Selangor