Epoxy, Acrylic and Urethane Adhesive is a structural adhesive that provide high adhesion strength, cohesive strength and load-bearing strength.
Bond glass, masonry, metal, plastic, rubber, wood and more.
Tough, durable, heat resistance and environmentally resistance.
Good alternative to mechanical fastener.
Wide range of product is available to suit your requirements.
Available from normal cure to fast cure, normal work-life to long work-life and normal handling strength to fast handling strength.
Product line:
        √  3M 2216 B/A, DP100, 3M DP100NS, 3M DP100 Plus, 3M DP125,
            3M DP270, 3M DP460, 3M DP460NS, 3M DP805, 3M DP810, 
            3M DP820, 3M DP920, 3M DP8005, 3M DP8010, etc.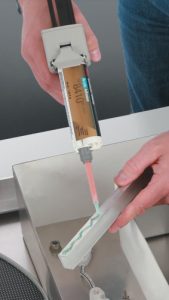 Data Sheet – 3M 2216 B/A Epoxy Adhesive (PDF)
Data Sheet – 3M DP100 & DP100NS Epoxy Adhesive (PDF)
Data Sheet – 3M DP100 Plus Epoxy Adhesive (PDF)
Data Sheet – 3M DP270 Epoxy Potting Compound Adhesive (PDF)
Data Sheet – 3M DP460 & DP460NS Epoxy Adhesive (PDF)
Data Sheet – 3M DP805 & DP820 Acrylic Adhesive (PDF)
Data Sheet – 3M DP8005 Structural Plastic Adhesive (PDF)
Data Sheet – 3M DP8010 Structural Plastic Adhesive (PDF)